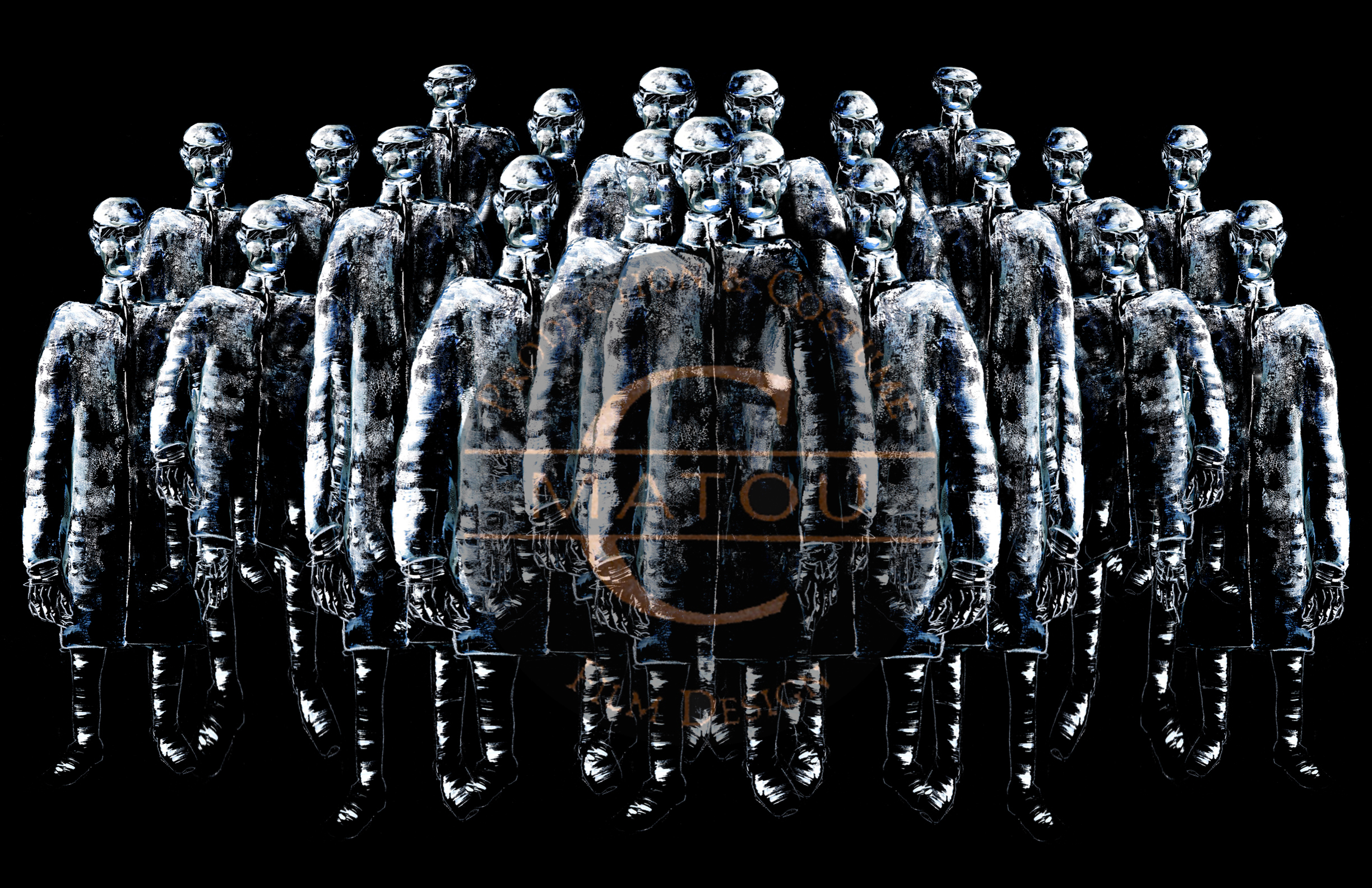 DARK CITY | THESIS | NYU TISCH 2018
DARK CITY is the story of a man, who is told that he is someone he cannot remember being, and that he is guilty of crimes he cannot remember committing. The central character, White, wakes up in a city of perpetual night filled with violence and contradictions. For some reason his only feelings of peace are associated with memories of the ocean. He sets out to find the ocean, convinced it will unlock clues of his true identity.
N.B.: DARK CITY by Alex Proyas. Thesis based on the 1992 draft and not the final script used for the 1998 feature.
BEDROOM
White wakes up in a room that appears fine but if one looks closer it is actually affected by time. Maybe the wall paper is stained, the ceiling fan threatens to fall apart, the faucet is leaking…
MR. WHITE
White leaves the room wearing clothes, not knowing to whom they belong. He takes with him the fish, which seems to want to go with him.
SHADOWS
WHITE has the feeling of being observed. In the shadows, we get a glimpse of the Strangers following him.
WHITE
Every time he opens a door, it leads him to danger.
HOTEL LOBBY
This hotel may have had its glory, but the Lobby is the facade hiding the insidious dilapidation.
MANAGER
The hotel manager looks like he could be running a Motel rather than this once decent hotel.
MR. WHITE
In his pocket, White is holding on to the gun he found as the only thing that seems real to him. He feels the shadows following him.
MORGUE
Detective Bumstead is called to the morgue.
BUMSTEAD
We meet Detective Bumstead in an environment he despises because of his germaphobic tendencies and his obsession with neatness. He looks sharp even though his clothes are not new, they are regularly pressed.
WHITE
For the first time, White faces the Strangers.
MR. WHITE
White not quite sure how to use this gun, yet he fires and kills the Stranger in self-defense.
MR. WHITE
White is always running away from the shadows that follow him.
FREDRICK
Fredrick came to warn White. Fredrick is hiding but will be murdered by the Strangers.
WHITE
WHITE witnesses the violence the Strangers are capable of. He witnesses the murder of Fredrick.
UNDERGROUND
The Strangers operate in underground quarters with feel like 1940s war rooms.
MR. BLACK
We meet Mr. Black as the leader of the Strangers.
Always looking over his Shoulder, White is seeking refuge and answers. He meets several people who end up killed…
STRANGERS
These Mystery Men ingest insects and their whole body is covered with a long coat, sunglasses and gloves. Their bald head is covered with a white powder and their skin is crackled. They look human but their limbs are extraordinarily longer.
STRANGERS
The strangers are busy building a robotic puppet designed to hunt and kill.
PUPPET
The Puppet is part robot, part insect, part alien.
PUPPET
With a cloak on, and retracted, the puppet looks grotesque and almost cute until it expands and is ready to kill.
PUPPET ASSASSIN
The Puppet tracks and kills all who have come to be in contact with Mr. White. The cute puppet becomes a lethal and merciless weapon.
BARBER
We witness the murder of the Barber.
LIBRARY
Hoping to find a map to the ocean, White is at the library. All appears normal only to realize that once touched all books are reduced to dust.
LIBRARIAN
The librarian is this old lady who never looks up and is clearly annoyed by anyone asking information from her information desk.
THE CHURCH
White enters the Church hoping to feel safer within the haven of the Church.
THE CHURCH
The Church looks vertiginous as a warning that it is not safe.
PRIESTS
The priests are threatening as they preach.
PRIESTS
In their red cloak, they look more like high magistrates in a witch hunt rather than priests.
STRANGERS
The Church does not shield White from the Strangers who chase in there.
SURVIVAL
For the first time White intentionally shoots to kill the Strangers. White is determined to survive at all cost in order to find the truth: who is he really?
MR. WHITE
White is cold and seeks a refuge.
SUBWAY
White feels lost and wakes up in the subway not knowing how he got there. A woman notices him.
THE INTRIGUING WOMAN
White is confused by the events. He follows this woman to her apartment.
THE APARTMENT
White walks being her going up the staircase leading to her apartment.
THE APARTMENT
The apartment is intoxicating with bold colors and textures that are a great contrast to the outside world.
THE PROSTITUTE
The intriguing young woman turns out to be a prostitute. She undresses to reveal a dragonfly tattoo on her back.
WHITE
White is not resisting this fantasy. He is not aware of putting her in danger.
THE PROSTITUTE
She has a strange connection with an alien like insect.
DREAM SEQUENCE
White dreams of water filling the apartment and being discovered by the Strangers.
MR. WHITE
Maybe this DR. Schreber can make sense of White's memory loss and give him answers about the Strangers chasing him.
SECRETARY
Dr. Schreber's secretary is chewing gum and seems blasée by her job.
DR. SCHREBER
Dr. Schreber is expecting Mr. White
MR. BLACK
We finally see Mr. Black the leader of an army of mystery men: The Strangers. they all move in a could of some sort of powder that keeps them dry.
ALL A DREAM
White begins to realize that he has abilities and that maybe nothing is real.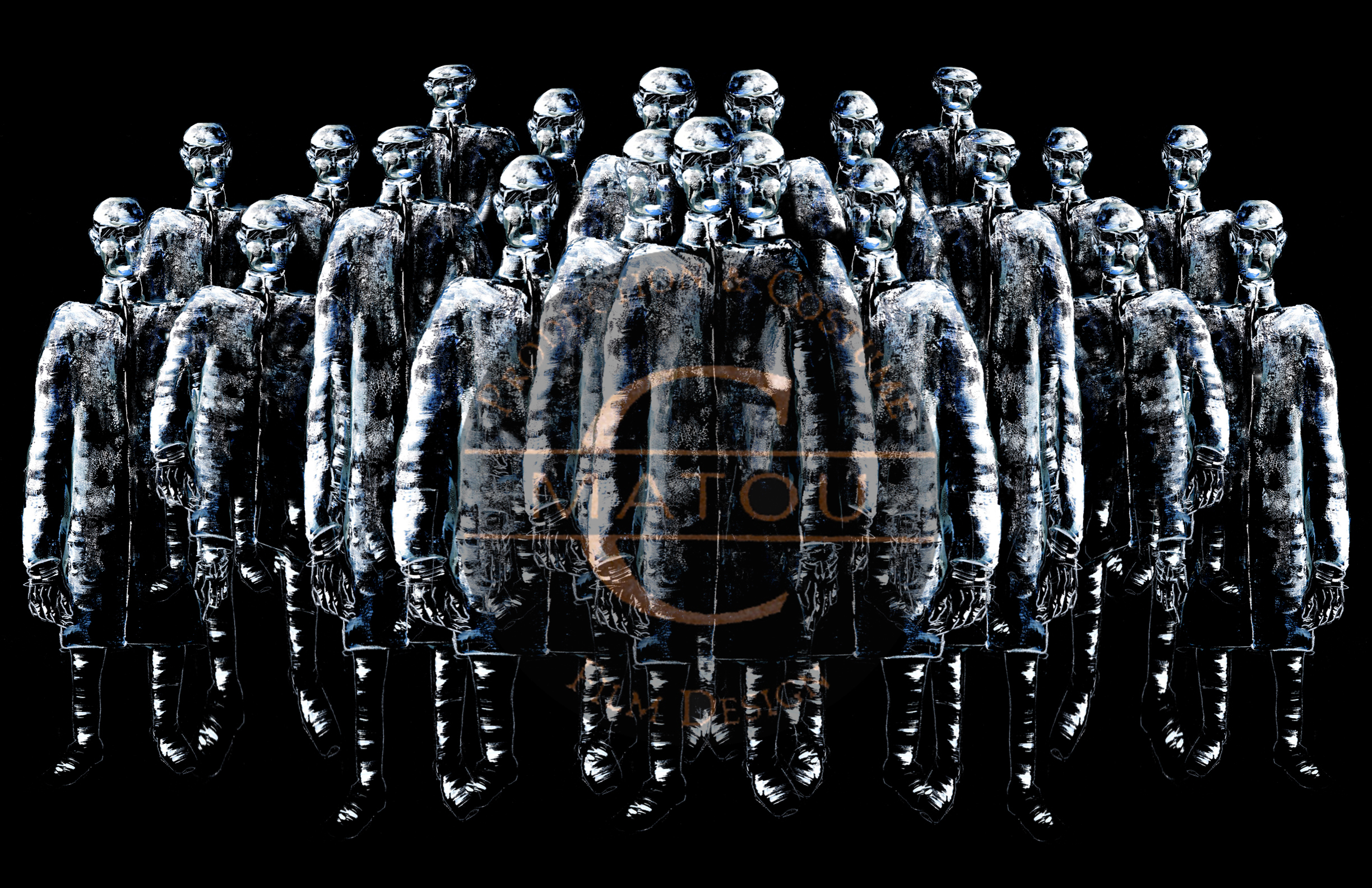 ESCAPE
White is running away from the puppet and the Strangers.
TORTURE
Those who are not killed, are tortured as Dr. Schreber finds out too late.
DOORS
Doors appear and always lead to danger for White.
WHICH WAY TO GO
White always seem to find himself in cross roads.
BUMSTEAD
Detective Bumstead is no longer the neat image of a man with OCD but rather one who is joining forces with White because nothing seems to make sense for this detective who finds comfort in order.
BUMSTEAD
Helping White costs Bumstead his life. Before dying , he tells White where to find the ocean.
THE OCEAN
Finally! White found the ocean…
WHITE
The Ocean is not what he expected…
NOTHING IS REAL
White is crushed. The Ocean is just a wall painting…Nothing in this world is real.
MR. BLACK
Mr. Black and his army control the memories and dreams in this world. It is time to fix the anomaly that is Mr. White.
DUEL
White is no longer reacting to the chain of events. He uses his abilities against Mr. Black. He wants control over his journey to survive and find the truth about himself. Will he vanquish The Strangers? END OF SAMPLE | THESIS 2018 | DARK CITY| NYU TISCH